Bio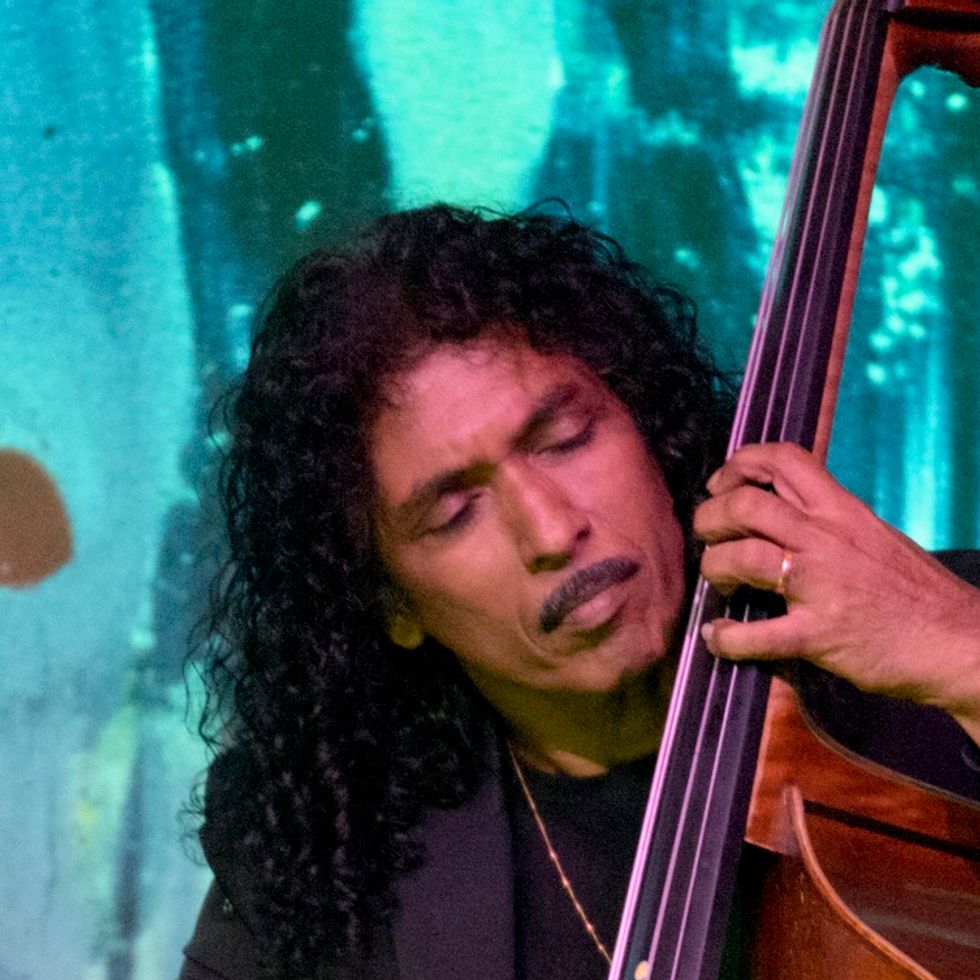 HUSSAIN JIFFRY
ELECTRIC BASS. COMPOSER . ARRANGER . PRODUCER. EDUCATOR. GRAMMY WINNING ENGINEER.
Since arriving in California in 1988 from his native land of Sri Lanka, Hussain has become a very busy bass player in Los Angeles.  His "in-the-pocket" feel and his versatility have his phone ringing for over thirty years. His presence is always a joy to behold on the bandstand, raising the level of musicality onstage, and inspiring the musicians around him and the audience with his infectious groove and his smile!
Born and raised in Colombo, Sri Lanka, Hussain grew up surrounded by the richly varied traditional music of his country, but also listened constantly to Pop, Jazz and R&B that was on the radio.  He started singing in school choirs at 10, took up piano accordion at age 12, and at 17 started playing electric bass.
In 1982 while performing with a local band in Sri Lanka, Hussain was offered to tour Europe with an R&B band, eventually spending 6 years on the European club circuit.  After that he moved to Los Angeles to study music at the Musicians Institute in Hollywood where he graduated in March 1989, receiving the school's highest award, the Vocational Honors Diploma.
After graduating, Hussain gradually grew busier and more in demand as his reputation spread as a player, eventually traveling the world many times over playing music with some of the most beloved artists of our generation, including;
Sergio Mendes-1996-2014
Al McKay (Earth Wind & Fire band)-1997-2007
Yanni-2004-2005
Dave Weckl Band-2003-2004
Herb Alpert-2007-Present
Through his association with Herb Alpert, he eventually became the sound engineer at Herb's beautiful & prestigious "Vibrato" Jazz club and eventually took on the job as the club's "Artistic director."
As a writer, arranger, producer and engineer, he records & produces a wide range of artists at his studio in Tarzana, CA.  He won a Grammy in 2014 for engineering Herb Alpert's album "Steppin' Out," winning "Best pop instrumental album of the year."
In addition to the artist mentioned above, here are some of the other artists he has performed, toured and or recorded with;
Tom Scott, Michael Bolton, Deneice Williams, Paul Russo, Hellen Reddy, Mel Carter, Kleber Jorge, The Atlanta Symphony, Stefanie Powers, Jim Messina, Kevyn Lettau, Ed Ames, Word of Mouth, Eliana Estevaho, Robert Kyle, Joe Williams, John Raitt & Janis Page, Dirk Fisher big band, Petula Clark, Freda Payne, Kenny Kirkland, Little Anthony and the Imperials,  Lamont Dozier, Pauline Wilson, Pocket Change, Monica Mancini, David Foster, Freddie Ravel, "Monica", Michael McDonald, Rique Pantoja, Niki Haris, Justo Almario, Bobby Brown, Russell Ferrante, Dione Warwick, Captain & Tennille, The Peri sisters, Chaka Khan, Crystal Gayle, Marilyn Scott, Jerry Buttler, Pam Tillis, Jonathan Butler, Jack Jones, The Four Tops, The Hollywood Bowl Orchestra, Gloria Gaynor, Robben Ford, Michael Boddicker, Phoebe Snow, Marty Stuart, Sam Moore, Steve Winwood, Whitney Houston, Nita Whitaker, Tito Puente, Carol King, Melissa Manchester, Ignacio Berroa, Christopher Cross, Carol Welsman, Nita Whittaker, Jim Messina, Stewart Copeland, Arnold McCuller and Kenny G.
As an educator, Hussain taught the "World Music" class for bass players at The Los Angeles College of Music in Pasadena from 2000-2010 and he regularly gives seminars, workshops and masterclasses via Zoom.  He also teaches privately when his schedule permits.
He has been married to his beloved wife Marita for over 17 years, Has two children - Dylan and Vanessa, one grandchild Jadon and three dogs - Koko Chanel, Layla and Daisy.
WORK 818 288 4740
EMAIL: WHOSANE9j@GMAIL.COM